Blitz-scaling.
Hyper-growth.
Growth. At. All. Costs.
Horrifically bloated marketing programs yeeting millions of dollars into the atmosphere praying to hit critical mass as fast as possible.
Right?
Maybe.

Growth can also look a different way.
Navattic, founded in 2020, just doubled YoY.
And here's the kicker.
They only have one marketer.
If you're a solo SaaS marketer, or want to reduce overwhelm and internal company politics, you'll want to read this.
I sat down with Natalie Marcotullio (Head of Growth and Operations @ Navattic – interactive demo software) to get a behind-the-scenes look at how they've doubled year over year.
I can't wait for you to apply these insights to your own company.
What you'll read here are words. Some Natalie's. Some mine.
— Brendan
PS – I couldn't be a bigger fan of Navattic. On LinkedIn, I literally can't shut up about it.
Check out all the cool companies that are using it.
If you want to see a few more examples of Navattic's interactive demos in action, quite a few Growth Sprints clients use it, too!
---
Below, we'll explore:
Getting customers as a team of one
Meeting structure for a small marketing team
Strategy for preventing micro-management and confusion
A "goal-first" approach to marketing that reduces overwhelm and internal politics
The V+U framework for acquiring customers
How to be everywhere (even when you can't be)
---
1. How far out do you plan your marketing in detail, and how has that evolved over the years?
Currently, Navattic plans quarterly with 3-5 specific initiatives.
Generally, at the beginning of each year, they also plan (and focus on) one strategic goal.
As a team of one, the marketing strategy has to revolve around one thing: scalability.
When Natalie started at Navattic two years ago, she focused on:
Cleaning up low hanging fruit
Implementing lead tracking
Updating / upgrading blogs
Creating structured and optimized ads
More recently, the focus has been on:
Thought leadership
Brand
Positioning
In marketing, not enough attention is given to considering when in your company lifecycle is the right stage to focus on specific initiatives.
Ex: When she first joined, thought leadership and brand content may not have made the most sense.
Not only because she was a team of one, but also because she didn't yet know her customers well enough.
She was lucky that she was a Navattic customer prior to joining, but she also joined calls with her CS team and started networking with her customers to help them with more general growth marketing.
---
2. Do you use OKRs (e.g. objectives, key results, 70% goals, etc.) in some form?
Navattic does use OKRs, but it's a mix of recurring OKRs (opps, pipeline) and 1-2 new OKRs that may change each quarter.
Being 80-90% inbound, she has to deliver quarterly on her opps/pipeline OKR if she even wants to consider other interesting marketing initiatives.
As a team of one, she works directly with her CEO, but also does a lot of cross-department work with CS and other parts of the company.
For example, a big focus for this quarter is on increasing adoption of a certain feature through product marketing of that feature.
Other quarters, she's worked more with sales on positioning and helping increase win rates.
If we had to quantify her role as a solo marketer (with as much tech jargon as possible), it would be:
Demand generation
Partnerships
Content marketing (and thought leadership)
---
3. How do your review meetings work? What is that process like?
Currently, Natalie meets with her CEO 2x weekly for 30min.
These meetings tend to be more tactical than strategic.
They also have an ongoing Notion doc of things they want to talk about which eliminates interrupting each other with one-off Slacks.
Additionally, it reduces most of the overwhelm that comes with ELT meetings.
I HIGHLY recommend more marketers adopt this way of working with their leadership.
Resource: Natalie also talked a lot about this on my friend Andrew Capland's podcast, Delivering Value. Listen here.
---
4. For marketing strategy, who comes to these meetings, who runs the meeting, and how often do you meet?
There are marketing + CS meetings, plus weekly meetings with the other members of the GTM team (Head of sales and Head of CS).
Similar to the above, ALL of this is constantly and (very) publicly documented in Notion.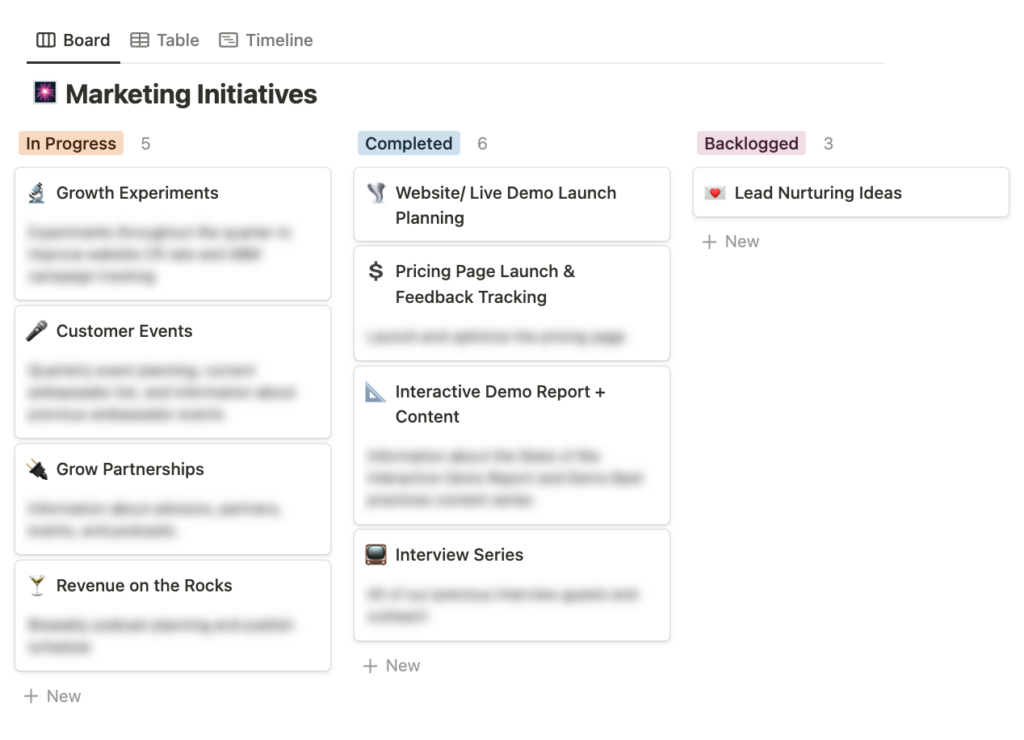 Nobody ever has to wonder "What is Natalie working on?"
---
5. Do you decide what to prioritize? Has this changed over the years?
From a company perspective, get the company to agree on a single thing we all want to accomplish.
Then, marketing can attach an OKR to it and prioritize it.
Ex: They were great at getting people to the website, but not as good at getting them back. So, they all agreed that retargeting (including multiple experiments with ABM, LinkedIn, email) should be prioritized.
Navattic's Goal-First Approach
Natalie also noted that we're taught to communicate in channel-specific language.
"We need a webinar."
"We need more case studies."
Instead, Navattic takes a goal-first approach to marketing where they focus on the goal and then consider what marketing will achieve that goal.
The goal-first approach also reduces internal politics and demands.
When a request comes in, zoom out.
Ask "what's the goal here?"
Because when Natalie was a task-rabbit, doing everything everybody else asked of her (I've been here before, too)… nothing went well.
She was doing tactics she didn't like and then sales didn't like the results.
So lose/lose but they all thought they *should* do it.
"I've learned that when people give you notes on something, when they tell you what's wrong they're usually right, when they tell you how to fix it they're usually wrong." – Bill Hader
100% applies to marketing, too.
---
6. What's your primary tool for tracking tasks and campaigns? And for production?
Notion and calendar-blocking.
---
7. Is there something unique or philosophically core to how the marketing team and leaders think about acquiring customers?
Natalie's two rules for anything they do is it has to be "Valuable + Unique" (the V+U framework).
Steal this script:
"Yes, we should do customer webinars, but right now I can't figure out how to make that both valuable and unique, so let's circle back to it. I think we'd both agree we don't want to put out something that isn't both unique and valuable."
"How can we be everywhere when we can't be everywhere?" is a major concern as a solo marketer.
Navattic has found a lot of success with being less obsessed with funnel stages and more with being everywhere so when a person is ready to buy, they are 100% in the consideration set.
Less breadcrumbs leading them along.
Less "just following up!" calls from a BDR.
In the past, people didn't know how to buy software so they had to be led.
Now we're ALL detectives so we have to meet them in their searches.
This is also why evangelism has been a big part of their marketing.
---
8. What were the best performing channels for you? Did that change over time?
3 primary channels that drive revenue for Navattic:
Not surprisingly, Navattic has a backbone of SEO/SEM.If we're going to spend money to get folks talking, we better show up when they Google.
Customer tours → PLG w/ our viral growth loops
LinkedIn → Blended organic + paid with thought leadership ads
---
How to use this info:
1. Send a DM to your teammate: "Liz — I read about how Natalie from Navattic doubled their revenue as a solo marketer. I thought there's X things in there that might really help our team. Mind if I send them over?" Then send her this link.
2. Meeting with your boss: "If we're thinking about how to better align all of our teams, I just got a behind-the-scenes look at how a "goal-first" approach to marketing helped Navattic double YoY. Think we can use that to our advantage? If so, this might be worth bookmarking.
3. Linkedin Post: Why every company should be using the V+U strategy (make sure you connect with & tag Natalie!)
Thanks for reading!
This is the third of a long series.
If you have a tip or feedback, I'd love to hear it.